Pet Skin Therapies
We are pleased to provide pet skin and hair therapies from our Certified Pet Aesthetician! Joshua Medenblik is Michigan State's ONLY Certified Pet Aesthetician! (see his Before & After Skin Therapies)
VIP Grooming Salon is pleased to announce that pet stylist Joshua Medenblik has earned his Certified Pet Aesthetician certificate. Only a handful of groomers in the country can boast this particular pet skin and hair therapy certification.
After months of study and application, Joshua Medenblik can successfully treat skin conditions such as allergies, bacterial infections, fungal infections, parasites and much more using an eco-friendly, pet safe products from Iv San Bernard Fine Italian Pet Products.
WHAT IS A CERTIFIED PET AESTHETICIAN?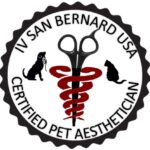 What makes a Certified Pet Aesthetician different from your average groomer? A Certified Pet Aesthetican has gone through stringent training including learning The Science of Skin as well as applications in a medical environment. Certified Pet Aesthetican studies include not only skin and hair health but also how to treat skin conditions, medical & dermatological terminology, proper records keeping and creating working relationships with veterinarians.
Following this training the students are required to finish their certification at Animal Health Services Surgical and Diagnostic Center in Cave Creek, AZ working in the therapeutic spa as well as hands on training with the veterinarians. After passing an in-depth written test the groomer is presented with their official certificate recognizing them as a Certified Pet Aesthetician.
CERTIFIED PET AESTHETICIAN SERVICES OFFERED
Allergy Treatments
Itching & Scratching Relief
Hair Re-Growth
Treat Fungal Issues
Safe and Effective Parasite Treatment
Hot Spot Treatments
Treat Bacterial Infections
Shedding Management
And much more!
DISCLAIMER: Any recommendations given are not meant to replace the medical care or diagnostics of a licensed veterinarian. These are recommendations based on the description provided by the owner and/or pet skin care provider/groomer. In all abnormal pet dermatological situations it is highly recommended to have an examination and diagnosis by a licensed veterinarian prior to any treatment. Some skin and hair problems can be a result of an internal or deep dermis condition that should be diagnosed by a veterinarian. VIP Grooming Salon & Iv San Bernard USA accepts no responsibility or liabilities resulting in the improper or inappropriate use of their products.